Dec 2nd, 2016 — Recently, FEITIAN Java card platform FT-JCOS obtains international CC EAL 5+ certificate. It's the first and only Java card product in China that obtains the certificate. This is a major breakthrough for FEITIAN. It proves again that FEITIAN Java card platform security technology and management has both reached the international advanced level.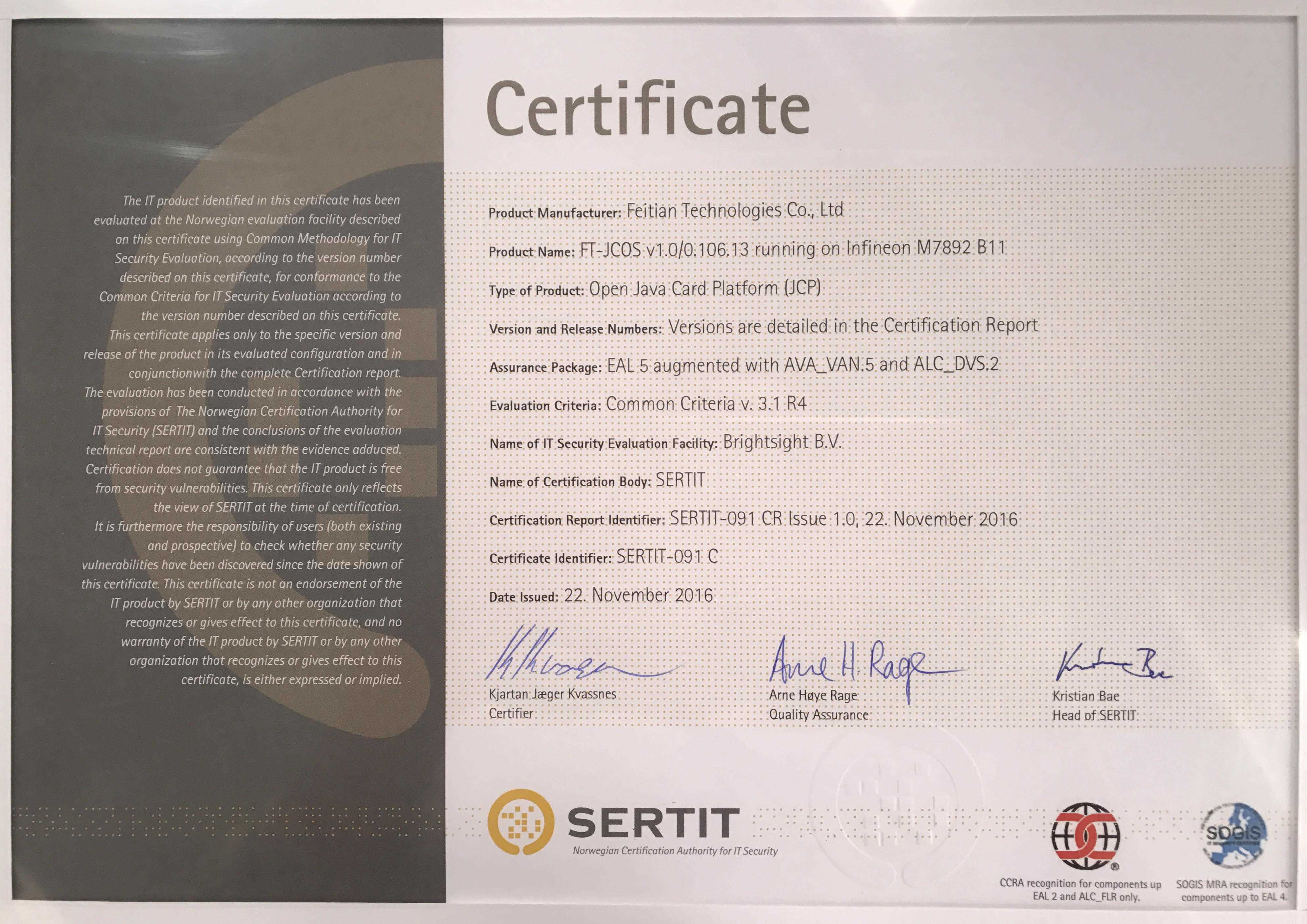 We know that CC is accredited worldwide in IT products. Compared to the CC EAL 4+ testing standard, the CC EAL 5+ have higher level of security requirements and the testing standards are more stringent. FEITIAN Java card operating system platform FT-JCOS has strong security features. It could not only resist common attacks such as voltage, frequency, temperature, laser, profile and other invasive semi-invasive attacks, but also can effectively prevent the leakage caused by the electromagnetic field monitoring which is the so-called side channel attack (SCA). It could even resist high-level template attacks.
Since 2014, Norway SERTIT staff came to FEITIAN to research for three times. FEITIAN FT-JCOS performs well in all areas through a series of rigorous and complex evaluation tests and finally meets the highest test and review standards. The related certificate and testing report has been announced on SERTIT and CCRA official website.
Smart card plays an important role in people's daily lives so that smart card security is important for the public. CC EAL 5+ certification proves that FEITIAN smart card products have reached high security level and makes FEITIAN products more competitive in global market.
About Us
Established in 1998, FEITIAN Technologies is a leading global provider of cyber security products and solutions.
Our customers are located in more than 100 countries and regions. 5 oversea branches in Asia, Europe, North America, and a professional international team enable us to serve our customers all over the world.
FEITIAN has over 1,000 employees, more than half are R&D engineers. The continuous high investment in R&D and the deep understanding of customer needs over the past 20 years have enabled FEITIAN to continuously develop diversified types of innovative products with international patent rights and certifications.
As a public company, FEITIAN has always been committed to provide customers with reliable and cost-effective products. We sincerely looking forward to being your long-term and reliable partner.