Cranbury, N.J.– Nov. 10, 2020 – Iris ID, a leading provider of iris recognition technology, today announced the compatibility of its iCAM M300 handheld, multi-modal biometric reader and the MozaicID iCAM M300 Smartcard Software Credential Application. This application enables the mobile device to accommodate a range of Personal Identity Verification (PIV) compatible credentials including PIV Interoperable (PIV-I) and the Transportation Worker Identification Credentials (TWIC), a smartcard used by workers requiring access to secure areas of U.S. maritime facilities and vessels.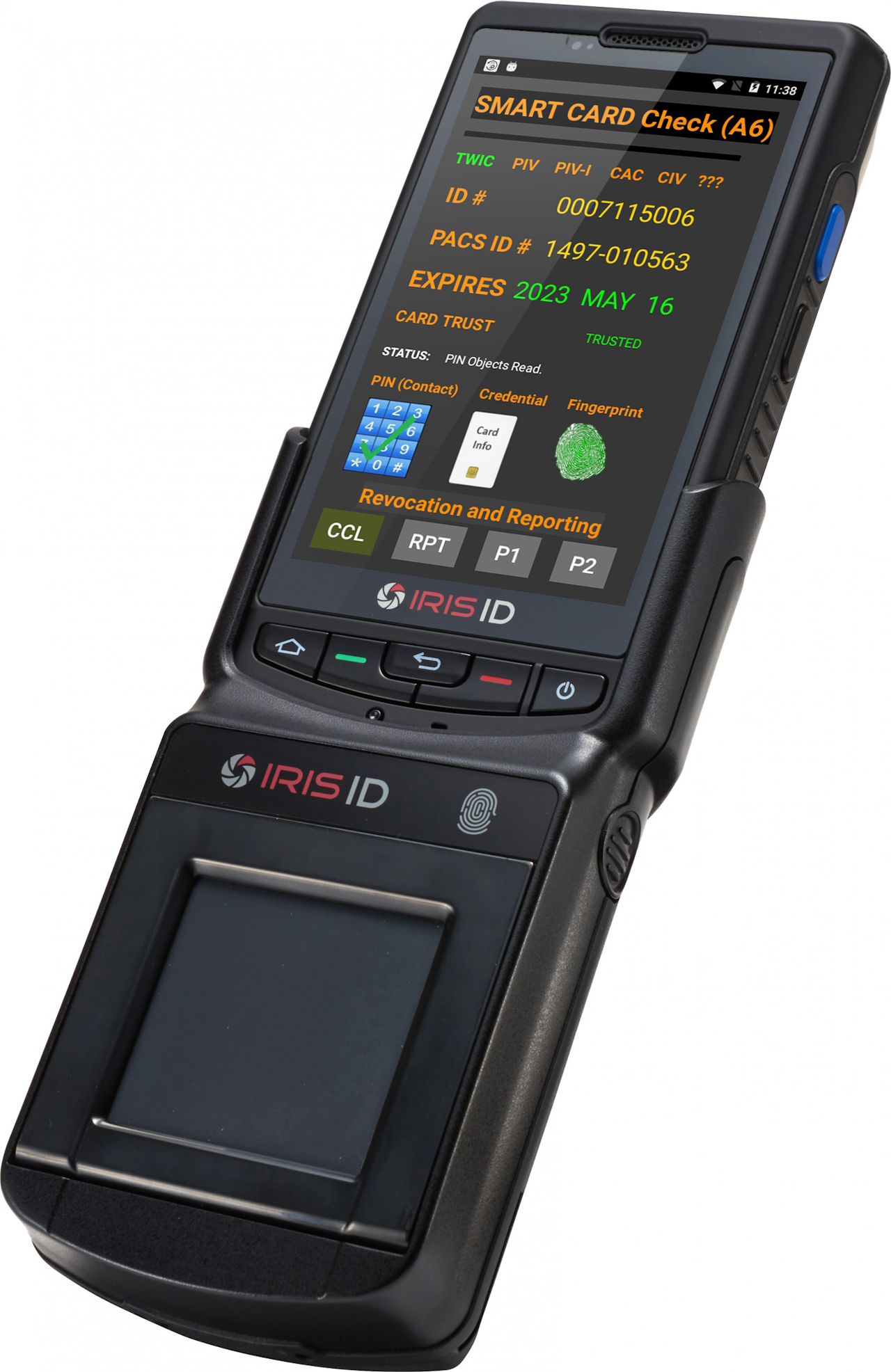 The MozaicID app uses the iCAM M300's detachable FBI-certified Sherlock fingerprint sensor from Integrated Biometrics to authenticate workers' identities by comparing a live fingerprint to a stored template embedded in the credential. The application will also check the trust status of the presented credential. The iCAM M300 also enables mobile enrollment of workers with its embedded camera simultaneously capturing both iris and facial modes for contactless identity authentication.
Mohammed Murad, vice president global sales and business development, Iris ID, said compatibility with the MozaicID app adds to the versatility of the iCAM M300.
"Iris ID and MozaicID have combined best of breed technologies to create an accurate and more secure means of identifying maritime employees wherever their jobs take them," he said. "The iCAM M300 provides an unparalleled intuitive user interface, which makes the process easier for the user and operator."
Jim Parroco, chief executive officer of MozaicID said "MozaicID is dedicated to providing effective, relevant and user-friendly security solutions. We institute intuitive and innovative technology in our software with proven results. The product offering we have with Iris ID provides an excellent security solution in response to a specific need."
The M300 also supports other contact or contactless Personnel Identity Verification (PIV) smartcards such as Common Access Cards (CAC) used by military, civilian and vendor employees in controlled government spaces; and Commercial Identity Verification (CIV), used by commercial organizations to meet federal government access control standards. The M300 comes equipped with software development kits (SDK's) ready to deploy a wide variety of Android-based identity applications.
Organizations requiring remote identity verification, such as the U.S. Customs and Border Patrol and law enforcement departments, use the water- and dust-resistant iCAM M300. The device provides magstripe and contactless card support, as well as an MRZ reader to verify ePassports. Communications protocols include NFC, Wi-Fi, Bluetooth, GPS, 4G LTE.
About MozaicID
MozaicID develops groundbreaking, integrated security solutions, for mission-critical events, providing identity verification solutions under short delivery schedules. Our relationships within the security ecosphere ensure utilization of the most up-to-date resources and technologies. MozaicID's applications are used by government and commercial facilities throughout North America. For more information visit www.MozaicID.com
About Iris ID Systems Inc.
Iris ID Systems Inc. has been active in iris recognition research, development and production since 1997. Today U.S.-based Iris ID Systems is a global provider of iris recognition solutions. IrisAccess® is the world's leading deployed iris recognition platform and is used in thousands of locations, authenticating millions of people's identities daily. More people look to IrisAccess for iris-based authentication than to all other iris recognition products combined. For more information, visit www.irisid.com.
Accurate, patented optical USB fingerprint sensor with 500 DPI resolution
Auto-On™ – automatic finger detection technology
Rugged fingerprint sensor resistant to scratches, impact, vibration and electrostatic shock (IP65)
Ultra-compact, lightweight and portable
Serial Cable connectivity through USB 2.0
Latent print image removal (does not accept prints left behind)
FBI Certified (PIV, FIPS 201, Mobile ID FAP 20 Compliant)
Complete Solution: Tablet, Software and Cards Included
Mobile Biometric Identity Verification + Mobile Enrollment
IP65 Rugged Handheld Device with Lightweight Feel
Waterproof, Dustproof, Shockproof, Drop-Resistant
WiFi, GSM Cellular Services, and Bluetooth Connectivity
Multi-Modal Biometrics: Fingerprints, Iris, Faceprint, Signature
Onboard Smart Card Encryption for Secured Biometrics Storage
Multi-Factor Authentication with 1:1 Biometric Matching
Digital Display of Cardholder Information
Write to Smart Card Directly (contact or contactless) or Send to Remote Location (Cloud database) or to the device
Verify biometric users information from Smart Card Directly (contact or contactless) or a Cloud database
Biometric licenses from RankOne (Face), and NEUROtechnology (Face)
Features Contact & Contactless M.O.S.T. Card® Smart Cards
idblox® Compliant for Seamless Connectivity to idblox Products
Standard and Custom Versions Available
Tablet may be purchased without software or cards
Available language in English, Spanish, French and German